The island's diverse mini climates offer an array of ideal locations for exciting adventures. Rugged terrains, deep chasms, high peaks, mountain sites, gushing rivers and tall waterfalls provide ideal settings for responsible adventure activities such as Hiking, Trekking, Camping, Abseiling, Ziplining, Paramotoring, Off-roading, Rock climbing, Cycling, Canoeing, Caving and Horse Riding. Adventure lovers of any age will be safe and secure enjoying their experiences with us. These exciting activities will be coupled with comfortable stays at family friendly resorts or accommodation facilities of your choice. You can also trek through scenic landscapes and enjoy the gush of adrenaline as you take part in thrilling activities such as waterfall abseiling or days of classic camping or glamping in some of the most exotic locations in the wild of Sri Lanka. Our adventure tours also consist of exciting activities that include rock climbing, white water rafting, waterfall bathing, camping and surfing on the exotic beaches of Sri Lanka. With numerous lagoons, rivers, swamps and interconnected canals you will have unmatched experiences on offer with endless opportunities to relax while enjoying nature and beautiful natural settings.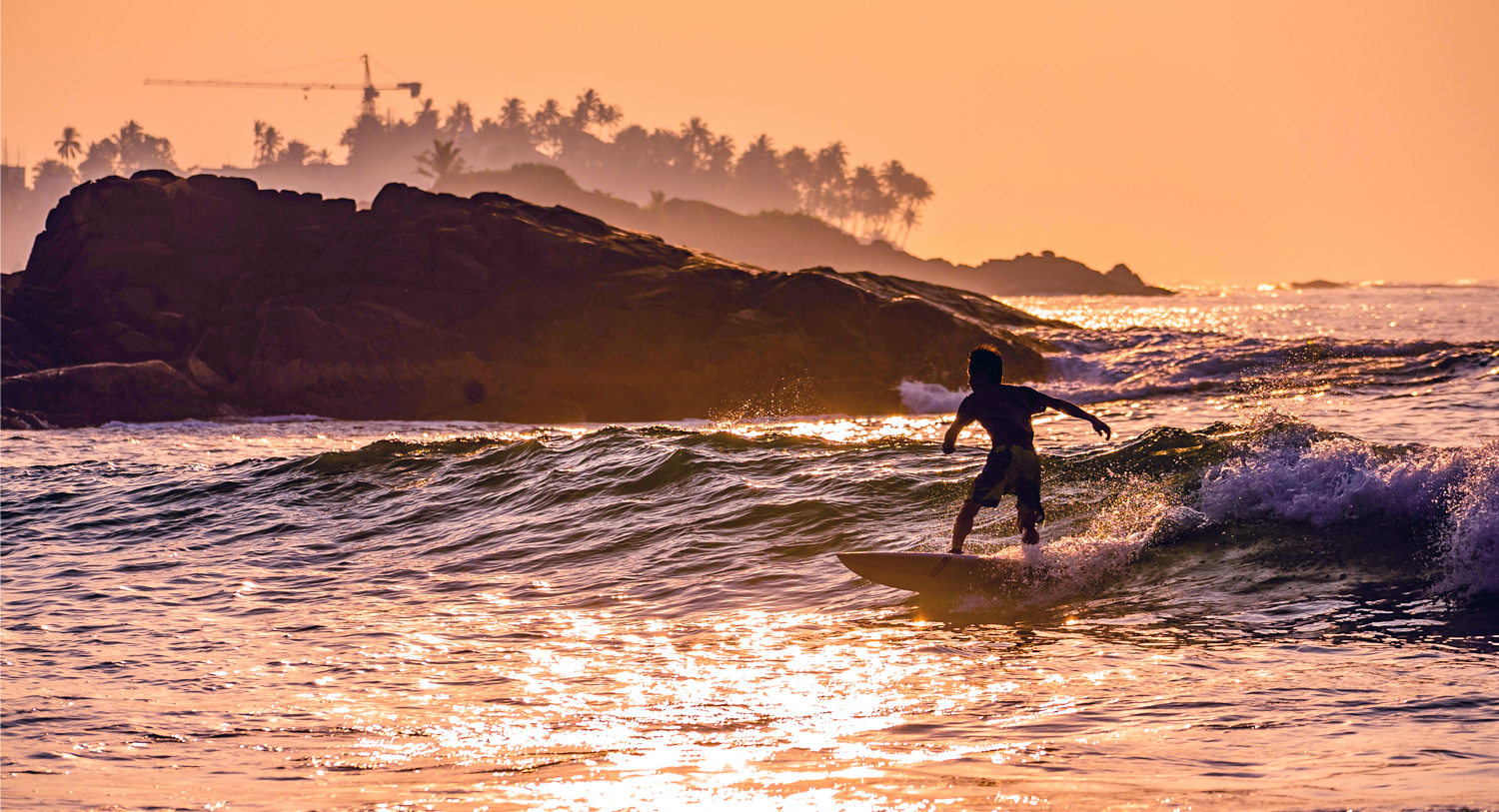 Arugam Bay
Arugam Bay, a small fishing village on the East Coast, is a much sought after tourist spot for surfing in Sri Lanka and among the top ten surfing destinations of the world.
The popularity of this exciting destination has soared in recent times and captured the hearts of visitors with its spectacular golden beaches, beautiful bays and the amazing swells and long rapid breaks of the ocean. There are also many other surf points such as Elephant Rock and Peanut Farm located in the south and Whiskey point in the north where even beginners can enjoy surfing.
Kitulgala
Kitulgala is a small town on the hills that slope down to the flowing waters of the beautiful Kelani River. It is a portion of the rain-forest that has mesmerized visitors with its natural beauty. The Academy Award-winning movie "The Bridge on the River Kwai" was filmed on the Kelani River near Kitulgala. Even though the main highlight at Kitulagala is white water rafting there are many leisure and adventure activities that are available such as jungle trekking, outdoor camping, mountain biking and Bird Watching. The higher part of the meandering river is more of a challenge that is recommended to the more experienced.
Kalpitiya
The Kalpitiya Lagoon, approximately 3 hours from Colombo, is one of the best places for Kite Surfing in Sri Lanka and the world. Scuba Diving, Snorkeling, Dolphin Watching and Boat Tours are also popular in this destination with thousands of enthusiasts visiting Kalpitiya annually. The less crowded Alankuda-Kalpitiya will give the Kite Surfing enthusiast exclusive stretches of beaches and professional water skiing and wind surfing companies to assist for most memorable experiences. With the perfect balance of waves and ideal wind conditions along the long coastline. The best conditions prevail between the months of May to October and December to March.
Bentota
Bentota, located just 2 hours from Colombo gives the adventure sports enthusiast the opportunity to enjoy a variety of water sports including speed boat and jet ski riding, wind surfing, boogie boarding, water skiing, kite surfing, to a leisurely ride on a banana boat with the entire family. Known as the water capital of the island, it is a foremost tourist destination and a popular location for water sports with many plush hotels and resorts ready to extend the warmest hospitality added to the golden beaches and emerald waters. The best times for water sports in Bentota are from November to April.
Hikkaduwa
Hikkaduwa, in the south western coast of the island is one of the best locations for diving, surfing, snorkeling and sailing among others. Surrounded with a number of reefs and interesting ship wrecks, diving around this area will be an exciting adventure. Snorkeling in the clear waters in Hikkaduwa with many coral reefs just off the beach and encounters with huge turtles, if you are lucky are unforgettable experiences. Surfing in the waters of Hikkaduwa is certainly for the well trained and skilled enthusiast. A ride on a glass bottom boat to view the corals or a challenging sailing expedition also awaits you in Hikkaduwa.