Marco Polo, the famous explorer described Sri Lanka as one of the finest islands in the world. Sri Lanka continues to mesmerize its visitors with the beauty of tropical landscapes and breathtaking panoramic views among its historical and cultural masterpieces and diverse wildlife among others.
The enticing beaches, high mountains rising to touch the blue skies, lush green tea gardens and salubrious climates give the visitor many awe-inspiring vistas and memorable experiences in this delightful land. Let us take you to explore the island's hidden places, along lesser travelled paths to make your holiday in this magical land one to cherish for a lifetime. The central highlands of Sri Lanka rise from 3000 ft. to over 8000 ft. surrounded with salubrious weather all year through. The approach through road or by rail will be a most unforgettable experience being treated with enchanting landscapes of green mountains, deep ravines, cascading waterfalls and gushing streams. Small towns and dainty villages dotted with buildings, historic temples and other surroundings belonging to various races and religions bear testament of a people that live together in harmony in a rich tapestry woven into nature's plentiful blessings. Come, escape and get lost willingly, in your tropical paradise. Let us show you the way.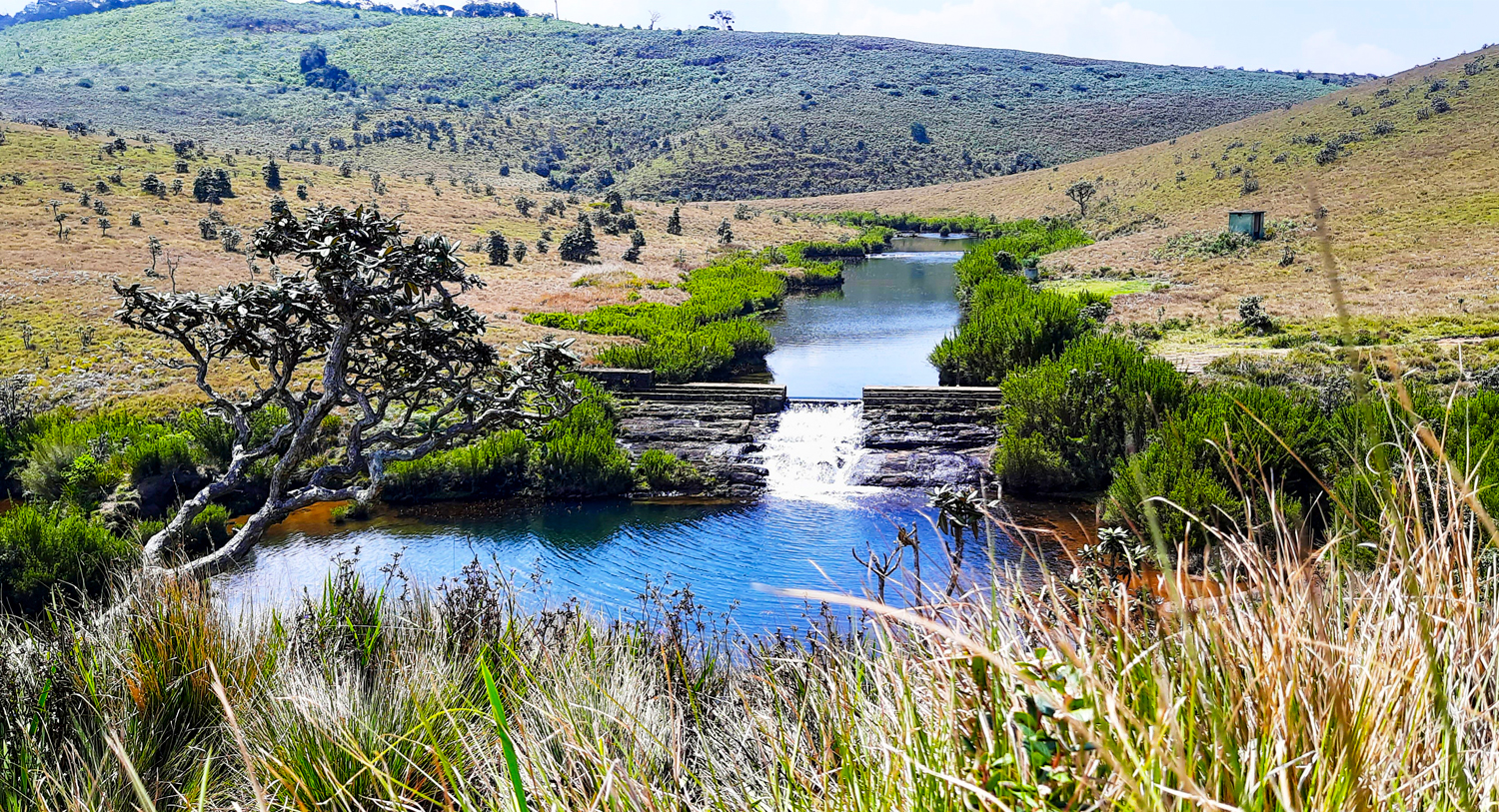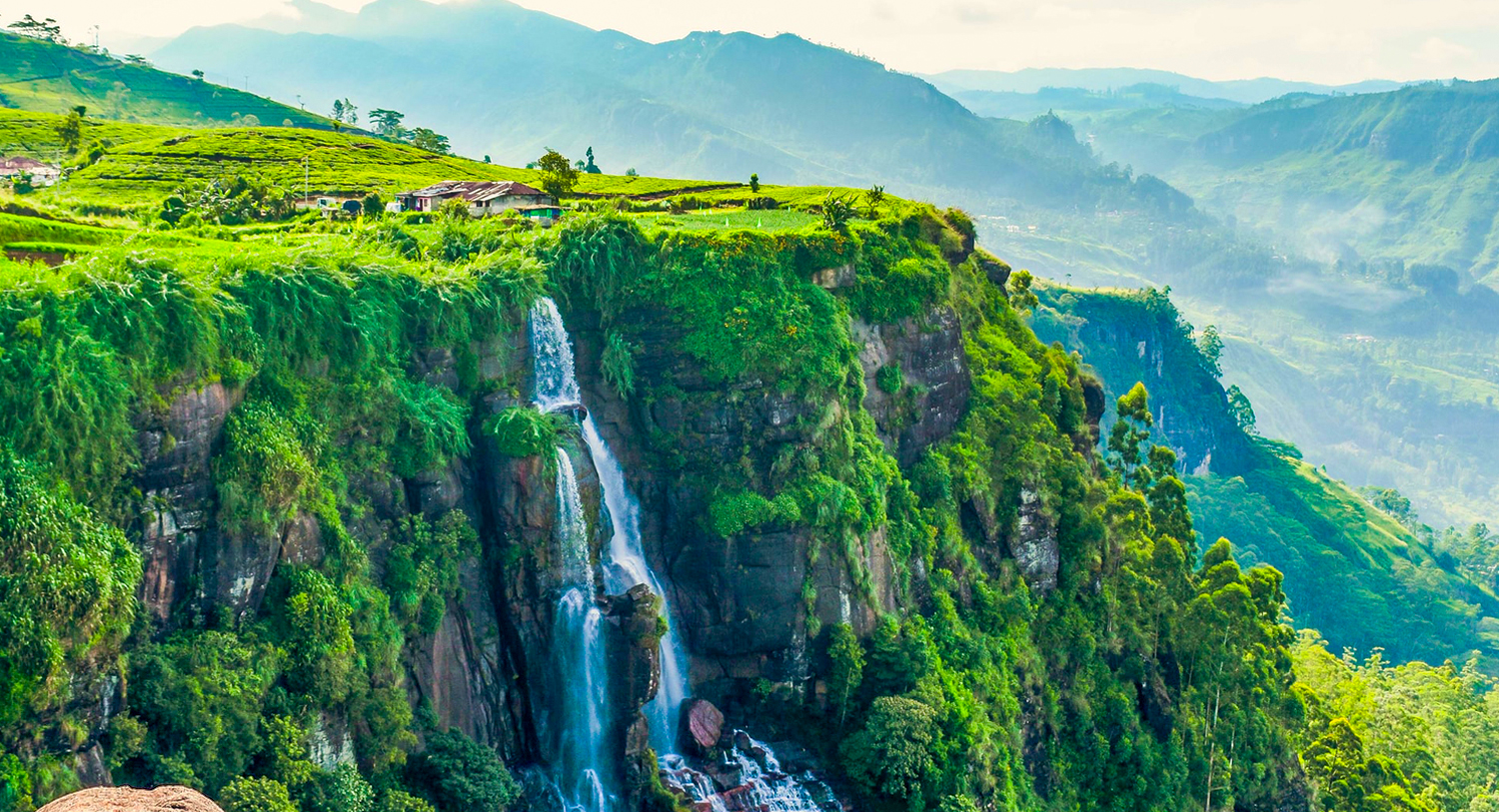 Ella
Nestled in a valley between mountains at an elevation of about 1000 meters, Ella is a serene village with salubrious climate that is rich in bio diversity and thick forests with numerous varieties of fauna and flora. With panoramic and breath taking views it is an incredible destination for hiking. Among the highlights of Ella are the Little Adam's Peak, the famous nine-arched bridge which is a unique piece of architecture and engineering and the Ravana Falls that is a spectacular sight with the water fall of about 90 meters. Ella is also a fine village to enjoy a typical Sri Lankan meal of rice and curry.
Nuwara Eliya
This delightful city is set amidst rings of mountains covered with seamless lush green tea plantations. As the prime tea growing district in Sri Lanka, it is also the foremost holiday destination for both Sri Lankans as well as foreign visitors. During the month of April the city takes a festive mood with bursts of color as beautifully landscape gardens bloom to welcome guests for the season with other exciting activities including horse races. The Victoria Park is a mini ornithological hot spot regularly visited by migrant birds. The renowned 18 holes golf course in the city is spread over 90 acres and is a popular venue.
Bandarawela
Located 197 kms away from Colombo in the Uva Province of Sri Lanka Bandarawela is a scenic city set amidst lush green tea plantations, distant hills, colorful outbursts of flowering trees and scattered fruit gardens and vegetable plots all over the region. It's salubrious climate and charming setting with buildings reminiscent of the colonial past has made it a popular holiday destination among local travellers. The Dowe Rock Cave Temple is an interesting religious site to visit consisting of lovely Buddhist murals and a Buddha statue cut into the rock. Though smaller in size this temple bears many similarities to the famous Dambula Rock Cave Temple.
Haputale
Haputale is a small town located in the Badulla District which is 4695 ft. above the sea level, giving views as far as the southern coast on a clear day. It is a unique destination with very rich biodiversity and beautiful views of the Southern Plains and the misty mountains wrapped in clouds. Approximately 193 km away from Colombo, Haputale is a wonderfully refreshing getaway with a cooling climate and temperature of less than 25 degrees. This destination is ideal for hiking and trekking and among the major attractions are the Liptons seat, Adisham Bungalow and the famous Dambatenna tea factory.
Galway's Land National Park
One of the smallest National Parks in Sri Lanka, Galway's Land National Park is situated within the city limits of Nuwara Eliya and is one of the important bird watching hot spots in the island. Highly recommended for bird lovers it is home to many varieties of species of both endemic & common birds of Sri Lanka. There are about 20 rare migrant bird species and 30 native species that can be seen at The Galway's Land National Park. The park is also renowned for different mammals such as the wild boar, buffalo and barking deer and also for beautiful floral species.
Hakgala Botanical Gardens
Situated approximately 10 kilometres south of Nuwara Eliya it is the second largest garden among the five botanical gardens in Sri Lanka and borders the Hakgala Nature Reserve which is home to a variety of wild life, including bears, monkeys and birds. The comfortable cool weather that prevails throughout the year compliments the exotic flora and fauna, creating a true paradise. Hakgala Gardens goes deep into history and is said to be one of the pleasure gardens of King Ravana called 'Ashok Vatika'. The present day Gardens was established in 1861 and today it boasts of over 10,000 species of flora.
Thalawakele
A scenic town in the Nuwara Eliya district, Thalawakele is located at an altitude of 1,198 meters and home to two famous water falls. St. Clair's is one of the widest water falls in Sri Lanka that cascades in three beautiful tiers with a width of about 50 meters. Falling from a height of about 80 meters it is the combination of the two smaller water falls, the 'Kuda Ella' and 'Maha Ella'. The Devon Falls, yet another strikingly beautiful one in Sri Lanka falls from a height of about 97 meters and is located close to the Talawakele town.
Pidurutalagala
Also called Mount Pedro, Pidurutalagala is the tallest peak in Sri Lanka at a height of 2,524 m and easily distinguishable from almost all the areas in the Central Province. The Government of Sri Lanka and its armed forces have built their communications array on the top of the peak which contributes to the functioning of Sri Lanka's radar system and hence considered a high security area. The peak is feature on every traveler's wish list and is accessible after a thorough security check by the army. Pidurutalagala is ideally suited for hiking, climbing or mountaineering during the months of April to June.
Horton Plains
Horton Plains National park is the coldest and windiest location in the country at an altitude of 2,100 meters above sea level. It is a protected area in the central highlands of Sri Lanka with magnificent landscapes of heavy forest cover, untamed grasslands, lakes and waterfalls. Inhabited by a variety of wildlife, the plains are also home to wild boar and the Sambar deer. Other highlights are the Bakers Falls, Chimney Pool and World's End, which is a sheer precipice with a 1050 meter drop, known to be the finest view in Sri Lanka and is at the end of the Horton Plains plateau.
Sinharaja Forest
Situated approximately 172 kms from Colombo it is accessible from any of its three entrances; Pitadeniya, Kudawa and Morning Side. One of the few virgin forests left in the world, this evergreen rain forest is a bio diversity hotspot which is also a major eco-tourism destination in Sri Lanka. A UNESCO declared natural World Heritage Site, it is also a designated Biosphere Reserve by UNESCO given it covers an area of approximately 11,000 hectares. The amazing variety of flora and fauna found in this dense rain forest makes scientists as well as nature lovers do excursions into the jungle to explore and appreciate its many untouched natural wonders.